This post is also available in:
ไทย
สอนฝึกบินและควบคุม Drone (Drone Pilot 101) อิงมาตราฐาน CAA จากประเทศอังกฤษ
เนื่องด้วยในปัจจุบันมีผู้สนใจและใช้งาน Drone สำหรับการถ่ายภาพทางอากาศเป็นจำนวนมาก แต่มีผู้ใช้มือใหม่หลายท่าน ขาดความรู้, รู้เท่าไม่ถึงกาลและประสบการณ์ที่เพียงพอทำให้เกิดอุบัติกับตัว Drone รวมทั้งทรัพย์สินรอบข้างหรือแม้กระทั้ง ทำให้ตนเองหรือผู้อื่นได้รับบาดเจ็บ สร้างมูลค่าความเสียหายต่างๆตามมามากมายและเพื่อเป็นการสร้างความมั่นใจว่าท่านจะสามารถใช้งานและควบคุม Drone ได้อย่างถูกต้องตามมาตรฐานจึงควรมีการเรียนรู้ที่เป็นระเบียบขึ้น
การแฮกค์โดรน เขียนโปรแกรมโดรน (ช่องเก้า)
ออกสื่อเรื่องกฎหมายโดรน (Spring News)
การแข่งโดรนที่เกาหลี (ช่อง 3)
กีฬาโดรนน้องใหม่ (Nation TV)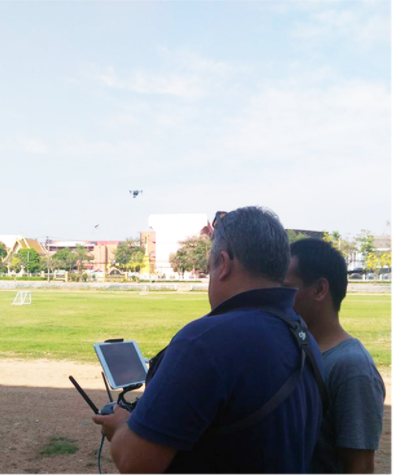 รายละเอียดการอบรม
• กำหนดการณ์อบรม: โทรมานัดได้ที่ 02-000-0199
• สมัครอบรมได้ที่: กรอกข้อมูลในแบบ form นี้
• ค่าอบรม: สอบถามได้ที่ 02-000-0199 (รวมค่าอาหารกลางวัน + break+ คู่มืออบรม + ใบประกาศนีย์บัตร สามารถชำระบัตร credit ผ่าน Facebook Payment ได้)
• สถานที่ เช้า ตึกอบรม Drone Academy Thailand
แผนที่
https://tiny.cc/datmap
ช่วงบ่าย ออกภาคสนาม
(เลขที่ 58/64 เมืองทองธานี ต.บางพูด อ.ปากเกร็ด จ.นนทบุรี 11120 )• ติดต่อสอบถาม: 02-000-0199 , LINE ID: @droneacademy
รายละเอียดหลักสูตร
1. พื้นฐานประวัติความเป็นมาความรู้ทั่วไปเกี่ยวกับ Drone (ความเป็นมา หลักการทำงาน ) (Basic Drone Knowledge)
1.1 Type of Drone,2. กฎหมายพรบ. เกี่ยวกับการบินใช้งาน Drone และข้อพึงปฏิบัติ (Drone Law & Regulation)
2.1 เขตห้ามบิน ที่ควรทราบ
3. แนะนำความรู้สำคัญด้านความปลอดภัยของ Drone สาเหตุของโดรนที่บินชนหรือตก (Drone Safety Knowledge for each type of drone)
4. คำแนะนำพิเศษและเคล็ดลับในการเลือกซื้อโดรนรุ่นต่างๆให้เหมาะสมกับการใช้งานจากแหล่งที่น่าเชื่อถือ (How to pick the right drone for you)
5. แนะนำส่วนประกอบต่างๆและความสามารถเฉพาะของโดรนรุ่นต่าง
– DJI Phantom 3
– DJI Mavic
– DJI Spark
– Parrot Mini Drone, Parrot AR Drone
– Custom made
(Introducing drone component & unique feature of each drone: DJI, Custom made)
6. ทดลองฝึกควบคุม Basic control (Basic Drone Control)
7. ทดลองฝึกควบคุม Advanced control (Point Of Interest, TapFly, Waypoint, Activetrack, Tripod, Gesture, Quickshot, Cinematic)
8. ทดลองฝึกควบคุมโดรนแบบ Fixed Wing ด้วยระบบ Simulator
9.ทดลองควบคุมและใช้งานโดรนผ่าน Goggle
10.แนะนำการใช้งาน Software และเทคนิคลูกเล่นต่างๆ (Software usage, Tips & Technique)
11. Drone Lost Recovery Tip& Trick
12. เทคนิคการในกาแก้ไขปัญหาโดรน Drone ขั้นพื้นฐาน และดูแลรักษา (Basic drone repair & maintenance)
13. แนะนำเทคนิคการถ่ายภาพในแบบต่างๆ (Photoshooting Technique)
Course Outline (English)
8 cores modules required by CAA (Civil Aviation Authority) of UK.
•1. UAS Airspace Operating Principles
At first glance it can appear daunting. Even though drones normally operate in the bottom 400 feet of airspace you'll need to know what happens above and beyond your flying area. Things like controlled airspace, danger areas, prohibited areas and restricted areas. There are lots of acronyms to get to grips with such as FIR, ATZ, MATZ, CTR and AIAA but we'll make it as fun and pain free as we can.
•2. Airmanship & Aviation Safety
There's a lot of ground to cover but it includes procedures for operating safely. We tell you why it's important to take pride in how you fly and why you should pay close attention to planning.
•3. Air Law & Responsibilities
This is the most important part to explain about the regulation of using drone in each country you stay as well as how to do the best practice on how operate drone responsively.
•4. Meteorology
We'll teach you how to get a forecast that's suited to drone flying and how to interpret it correctly. We'll also tell you about aircraft icing, turbulence, and wind gradients and how the area in which you're flying can have a dramatic effect on local conditions.
•5. Navigation Charts
Just because your drone has a built in GPS doesn't mean you needn't worry about navigation. There's a whole section of our course devoted to good old fashioned maps and charts and the limitations of GPS. If you haven't seen an aviation chart before you'll be surprised how much 3 dimensional data is crammed into a two dimensional space and most of it is vitally important for safe flight planning.
•6. Human Factors
The vital part of the syllabus but it's one that students are surprised to see listed. Then they hear about the adverse effects of tiredness, alcohol and medication. Even cold weather, excessive workload, distractions from clients and spectators or working on your own can put a drone pilot under pressure – pressure that could lead to an accident.
•7. Aircraft Knowledge
It contains a lot of components and complex systems which you need to understand. Things like Inertial Measurement Units, Power Management Units, Accelerometers and Electronic Speed Controllers. You'll also need to know the specifications and limitations of your own aircraft, not just for practical reasons including safety and emergency procedures, but also for when you come to write your Operations Manual.
•8. Operating Procedures
Everything from flight planning, site surveys, risk assessments to pre and post flights checks and emergency procedures. Although these things can sound daunting, they will boost your confidence no end when you know how to do things properly and safely.
Additional useful modules for usage drone in Thailand
•9. History of Drone
•10. Thai law and regulation, No fly zone in Thailand and how to get permission to fly
•11. Select the suitable drone for your job
•12. Lost drone recovery.
•13. Drone part components
•14. Outdoor Assessment
– DJI Phantom 3
– DJI Mavic
– DJI Spark
– Parrot Mini Drone, Parrot AR Drone
– Custom made (Introducing drone component & unique feature of each drone: DJI, Custom made)
– Basic control (Basic Drone Control)
– Advanced control (Point Of Interest, TapFly, Waypoint, Activetrack, Tripod, Gesture, Quickshot, Cinematic)